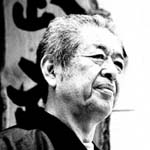 Amatsu Tatara Hichibuku Goshin-jutsu
(天津 蹈鞴 秘致武九護身術)
article written by Hatsumi Soke (初見 宗家) and published in Sanmyaku (山脈) magazine issue 9


(Reproduced by kind permission of Hatsumi Sensei):-

Maybe one can call this natural medicine when one heals the sick using the truthful healing ways of Amatsu Tatara Hibun and the truths of the human body and the natural world known as Hichibuku Goshinjutsu.

They have been transmitted within the Bujinkan since ancient times. Nakayama Tsuneaki, a famous doctor at the leading edge of modern medicine, is said to have told his doctoral students the following:

Any doctor who operates on a patient's cancer and cures them is happy to see the patient's healthy form afterwards and it is quite natural to say "I cured this patient", but at such time Dr Nakayama would say "Do not think that it was you who cured the cancer patient; instead you should think that the efforts of the patient himself have cured the cancer".

Takamatsu sensei too said "It is important to handle things in such a way that they are cured through the patient's own natural power and spiritual power".

People tend to equate modern medicine with progress. However, in times when there are no doctors such as war or natural disasters etc., or where even if doctors are present all drugs and medical facilities have been lost, medicine and modern systems for treatment both disappear.

The people of antiquity and Bushi experienced this need for survival, and understood the natural truthful methods of healing written down as a legacy in the Amatsu Tatara, and methods such as those in the preface to the Hichibuku Goshinjutsu "These are excellent techniques to activate the body in all areas as desired, in company with spiritual changes in the practitioner and without using any medicines or appliances; to make the elements spread, remove pathogens, and quickly let them recover".

Once when I was chatting with Takamatsu Sensei, it must have been thirty years ago, he talked about radiation; "They say radiation affects the bones. Vinegar is probably a good way to counteract this. It is said that vinegar causes radiation to disappear. Ninja often used 'Tsune no Mizu' , made by boiling a cloth in Umezu (apricot vinegar), right? I feel radiation might disappear quite well with Umeza".